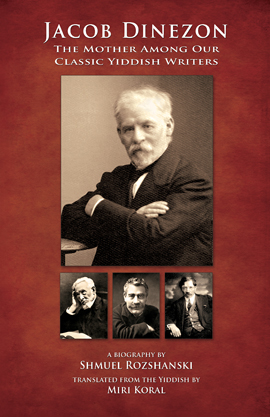 JACOB DINEZON
The Mother Among Our Classic Yiddish Writers
Translated from the Yiddish by
Miri Koral
Translated from
Yaakov Dinezon: Di mame tsvishn unzere klasikers
By Shmuel Rozshanski
Copyright © 1956 by Confederacion Pro Cultura Judia
Buenos Aires, Argentina
Argentinian Division of the International
Congress of Yiddish Culture
Permission to translate into English from Confederacion Pro Cultura Judia—Fundacion IWO
English translation copyright © by Scott Hilton Davis and Robin Bryna Evans.
All rights reserved. Permission is granted to use this content for research purposes.
Please be respectful of copyright and provide attribution.
Jacob Dinezon photograph courtesy of
Archive of the YIVO Institute for Jewish Research, New York
Paperback book version available
here.
For future literary historians.
May this translation be a springboard to further research.