From The Abraham Sutzkever-Szmerke Kaczerginski Historical Collection Series I: Correspondence with individuals, 1836-1941 YIVO Institute for Jewish Research Translated from the Yiddish by
Mindy Liberman
In this Yiddish letter to Jacob Dinezon, Sholem Aleichem relates plans for his wife, Olga, to visit Warsaw as a way of speeding up the transfer of his copyrights following his 25th Jubilee as a writer.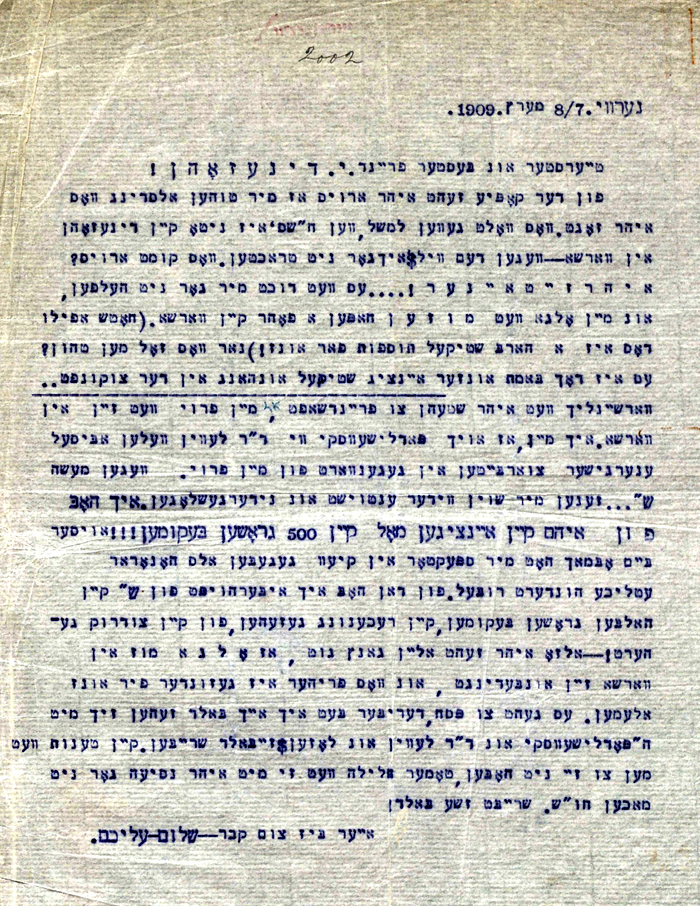 Letter to J. Dinesohn
Nervi, March 7/8, 1909
Most Dear and Best Friend J. Dinezohn!
You see from the copy that we are doing everything you say. What would happen, for instance, if there was, God forbid, no Dinesohn in Warsaw—I don't even want to think about it. What would be the point? You are one of a kind!. . . . It seems to me it won't help at all, and my Olga will have to take a trip to Warsaw. (Even though, to be sure, this is a difficult extra for us!) But what should we do? In truth, this is obviously our only small link to the future . . . I can undoubtedly count on your friendship when my wife will be in Warsaw. I believe that Podlishevsky[1], as well as Dr. Levin[2], will work more energetically in my wife's presence. As for the story about Sh.[3] we are again disappointed and depressed. I have never once received even 500 groschen from him!!! Other than at the time of the agreement, Spektor[4] in Kiev gave me a few hundred rubles as an honorarium. Since then I have absolutely not received even half a groschen from Sh., not seen an accounting, heard nothing about a printing. So you can see very well for yourself that Olga must be in Warsaw without fail, and the sooner the healthier for all of us. It's almost Passover, so therefore I ask you to meet with Mr. Podlishevsky and Dr. Levin and let them write soon. I will have no complaints against them, unless she, God forbid won't accomplish anything with the journey, perish the thought. Write soon!
Yours until the grave—Sholem-Aleichem.